Halloween is coming up quicker than you think, and these adorable Mummy Mason Jar decorations are perfect! They're easy enough to make with kids, so they're the perfect cloudy afternoon craft! Whip them up in a few minutes and make your house spooky and cute at the same time! Also, make up the Fall Mason Jar Luminary version perfect for your holiday table.

If you need the PERFECT food to go along with these Halloween Mummy Mason Jar decorations, have the kids help you with our super cute Spider Web Cupcakes! If you want another adorably spooky craft, you should make our Halloween Spider Kid's Craft!
What You Need
2 Mason Jars
1 pkg. 2" Tender Tape
4 Large Googly Eyes
Hot Glue Gun
2 Candles
How To Make A Halloween Mummy Mason Jar
Cut the tender tape in half lengthwise so it is 1" width, and cut about a 24-inch piece. Start at the top of the jar and wrap it around the jar to the bottom, leaving some of the jar showing like a mummy. It doesn't have to be perfect, so this is a great step for kids to help with!
Glue 2 googly eyes on each jar, and put a candle in each jar. If you don't want to use real fire, you can always use a battery-operated flame-less tea light and it will work just as well.
Light the candles to see a cute and spooky mummy. Let the kids turn the lights on and off to see the difference in how much he glows, they'll love it!
Now your adorable Halloween Mummy Mason Jar is finished! You can make just one, or you can make several! They're the perfect decoration to stick around the house for Halloween. If you use a battery operated tea light candle, you can always let this be your kid's night light for the month of October. If you make them, we'd love to know! Drop us a comment and let us know how yours turned out!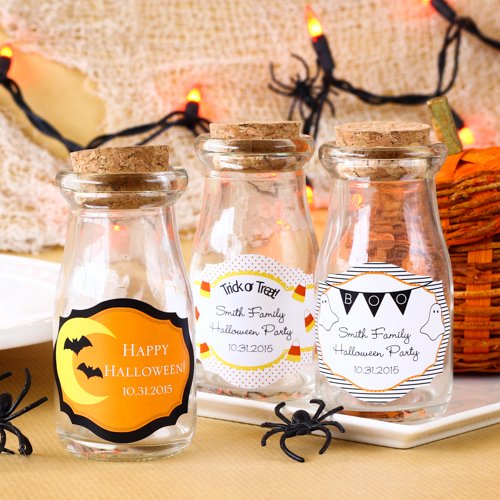 Personalized Halloween Vintage Milk Jars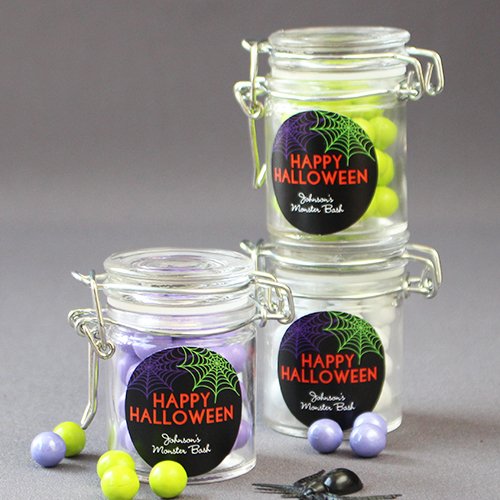 Personalized Halloween Favor Jar