I love decorating for fall, but buying all the decor I want can be expensive. Sometimes it's nice to just make things on your own. This year I made this adorable Fall Leaf Mason Jar Luminary and I love the way it turned out!
Fall just wouldn't be complete in our house without this slow cooker apple cider recipe! It's delicious and makes our house smell HEAVENLY!
What you Need
3 Jars, any size
3 Leaves, fabric or real
Craft Paint—Dark yellow, Tan, Dark Orange
1-1 ½ cups Popcorn
3 Small Candles
Raffia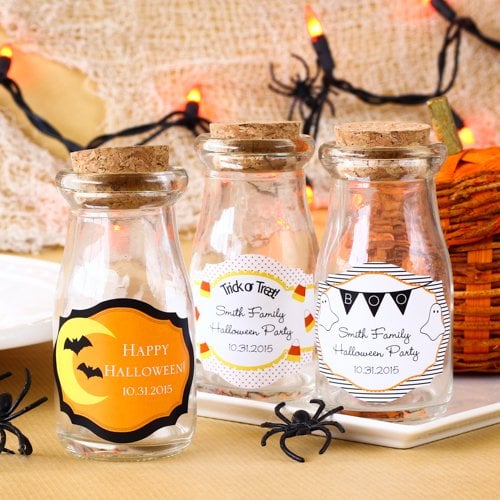 Personalized Halloween Vintage Milk Jars

Wish Jar

Happy Thanksgiving 10 oz. Chocolate Chip Cookies

How to make Fall Leaf Mason Jar Luminary
Trace each leaf onto a small piece of the contact paper, and cut them out.
Peel and stick each leaf onto a jar, pressing tightly.
Paint each jar one of each of the colors, making sure to cover the entire jar. You may do 2-3 coats if you wish the colors to be darker, letting each coat dry completely in between.
After letting the jars dry completely, peel off the contact paper leaves and place a candle down into each one.
Pour some popcorn into each jar filling enough to cover about half of the candle.
Tie a piece of raffia around the top of each jar.
Light and enjoy your Fall Leaf Mason Jar Luminary.
If you don't want to use real candles, you can always use fake candles as they work just as well. Be sure to turn them off before you go to bed, or your batteries will die in no time! If you use real candles, small tea lights work just fine. The jars catch and spread the light really easily so a little goes a long way! Be sure to use unscented, or to pick the same scent, or scents that work well together. Just don't mistakenly use a Hawaiian breeze scented candle with a cinnamon apple!