Are you looking for some great Halloween ideas that will also save you money? When I want to save money, Dollar Tree is always my go-to store. Seriously, you can't beat everything for only one dollar, but it's not junk, either. You can get some decent stuff from the Dollar Tree and they are holiday central.
They go all out on their stock for every holiday and also their birthday, wedding, and other party items. You can get everything from party favors to wrapping paper, and more.
There are so many great Halloween hacks you can use from the Dollar Tree. There are even Facebook groups devoted to talking about the crafts, ideas, and other fun stuff you can do from the Dollar Tree. So, I'm going to tell you some of my favorites.

4 Top Halloween Hacks from the Dollar Store
Decorate Your Home Indoors and Out 
You will be surprised at how many great decorations the Dollar Tree has and it seems their stock grows more and more each year. You can get window films and stickers, door covers, wreaths and materials to make wreaths, lawn stakes, skeletons, bats, and other spooky things to hand in the trees or bushes, and so much more. I go early in the season every year to see all the other new things they have added to their inventory. You can even get Halloween lights, spider webbing, and more. From the dollar store, you can get so many craft supplies to make an array of Halloween Decor. Use these for a little inspiration
Plan a Halloween Party
If you're having a Halloween party, the Dollar Tree is the place to go. They have everything from napkins and party favors, to goodie bags and everything you want to fill them with. You can get balloons, plastic cups, fun headbands, and everything else you need to make your party great. If you want to go for a scary theme, you can use bats, skeletons, and other items to make a spooky centerpiece, for example.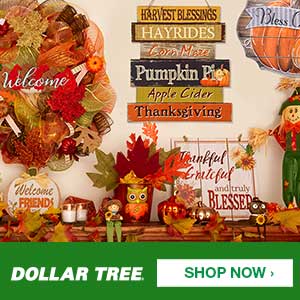 Create Your Own Costume
You can also create your own costume, or build your costume from the items you find at Dollar Tree. You can get many great accessories for costumes like ninjas, cowboys, fairies, and princesses. They also have fun accessories like spooky and silly headbands, Halloween-themed scarves, and more. If you don't want to go in full costume, but you just want to wear something that shows you're in the spirit, this will do it.
Stock Up for Trick or Treaters
You can also stock up on all the great Halloween candy you could ever dream of. You won't have to worry about running out no matter how many visitors you get. They have every type of candy you can think of, from candy corn to chocolate, and everything in between. Fill your Halloween bowls to the brim because each bag is only $1.
You can head out to your local Dollar Tree today to see what they have to offer. If you give yourself enough time in years to come, you can order your items in bulk online and have them shipped right to your local store for pick up, making it easier to get all of your favorite, spooktacular goodies from the Dollar Tree.